Description
This 90-minute workshop is focused on the exploration of implicit bias in the delivery of behavioral health services. These common, yet complex unconscious attitudes, reactions and stereotypes impact the delivery of behavioral health services and contribute to health disparities. Content will cover the following: implicit bias, the impact of bias on therapeutic outcomes and agency practices, and strategies for identifying and addressing bias in behavioral health. The new law and licensing regulations, which define implicit bias and the professional responsibilities for behavioral health, will be highlighted. Examples will be given.
*This workshop meets the Implicit Bias requirement for Behavioral Health Specialists including Social Workers, LG/CPCs, Psychologist and Psychiatrists.
* Refunds will not be granted after purchase.
* You have access to the video for 30 days.
Instructor
University of Maryland School of Social Work
---
Gisele Ferretto, MSW, LCSW-C has over 35 years of social work experience in both clinical and macro practice areas. Her areas of expertise include: policy, professional ethics, supervision and leadership, confidentiality, social work and field practicum education, child welfare practice, and curriculum development. Ms. Ferretto provides consultation and training for private and public agencies in her areas of expertise. She has served on a variety of committees and boards at the local, state, and national level developing policy and program initiatives.
Currently, Ms. Ferretto is on the Faculty at the University of Maryland School of Social Work (SSW). During her tenure at the SSW she has held positions in the Office of Field Education, Title IV-E Education for Public Child Welfare Program, Child Welfare Academy, Family Connections Baltimore and Social Work Community Outreach Service (SWCOS). Prior to her positions at the SSW, she served as an administrator at the Maryland Department of Human Services in the following programs: Child Protective Services, Office of Equal Opportunity, and the Office of Staff Development and Training. Ms. Ferretto began her social work career as a Child Protective Services Worker at Baltimore City Department of Social Services.
---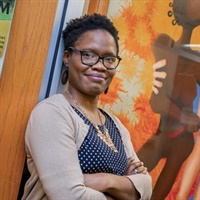 ---
As the School of Social Work's first assistant dean for diversity, equity, and inclusion, Neijma Celestine-Donnor will help lead the school's diversity and anti-oppression efforts and guide the achievement of a new standard for inclusive excellence. As a member of the dean's executive leadership team, Celestine-Donnor has a strategic position responsible for promoting and enabling an inclusive environment for faculty, students, and staff while championing organizational change.
Grounded in pursuing social justice for minority populations and supporting equity in higher education, Celestine-Donnor is an experienced leader focused on providing strategic oversight for protocols, services, and policies related to campus climate. She uses her clinical and conflict resolution skills to provide individual and systemic trauma-informed outreach, advocacy, and support for all. Her extensive experience developing, facilitating, and assessing professional development workshops, training, and programming designed to enhance the intercultural competency of students, faculty, and staff will be a tremendous benefit to the school.
Celestine-Donnor comes to the school from the University of Maryland, College Park, where she served as director of campus climate support and engagement in the Division of Diversity and Inclusion. She is a 2009 graduate of the School of Social Work's MSW program and previously served as a clinical training instructor and adjunct faculty member at the school. In addition, Celestine-Donnor is studying for a Juris Doctor degree from the University of Baltimore.
---
Learning Objectives
Objectives: Participants will:
Explore the definitions of implicit bias and bias as defined in law and behavioral health care practice standards, including Health General § 20-1301.

Examine the impact of implicit bias on every level of service delivery including intake, assessment, intervention, and agency protocols.

Identify strategies for identifying, addressing, and preventing implicit bias in behavioral health care.
Bibliography & References
BIBLIOGRAPHY & REFERENCES
Recovering from Mistakes: Aguilar, L. C. (2006). Ouch! That stereotype hurts. Flower Mound, TX: The Walk the Talk Company
Late Fees and Refunds
Fee & Registration:
Cost is $45 and includes CE credit. You have access to the course for 30 days.
* Refunds will not be granted after purchase.
Course Completion & CE Information
Category II Maryland BSWE Requirement
The Office of Continuing Professional Education at the University Of Maryland School Of Social Work is authorized by the Board of Social Work Examiners in Maryland to sponsor social work continuing education programs. This workshop qualifies for 1.5 Category II Continuing Education Units. The Office of Continuing Professional Education is also authorized by the Maryland Board of Psychologists and the Maryland Board of Professional Counselors to sponsor Category B continuing professional education.
Please refer to the tab "Live Interactive Webinar Policies & FAQs" for UMSSW Office of CPE policies regarding all live interactive webinar related matters.
Target Audience
Social Workers, LCPCs, and Psychologists
All those interested in Topic Welcomed